We are folc.
Founded in 2019 by couple Elisha Rai and Tom Cannon, folc started life during England's first taste of 'lockdown life'; a time when we were all forced to pause and find joy in small pleasures; a walk in the park, a late summer picnic. More than ever, we realised the importance of cherished loved ones, of family and friends, and local support.
It's with this ethos that folc was born; a wine that celebrates the joy of community. Having left behind fast-paced City jobs at the age of 30, Elisha and Tom sought to create a rosé that encompassed all they loved about rural English life. Simple, pure ingredients, brought to life by the natural rhythms of the seasons. Folc is for the hazy summer days spent with friends; the picnics that last beyond sundown, the al fresco dinners that last beyond dessert.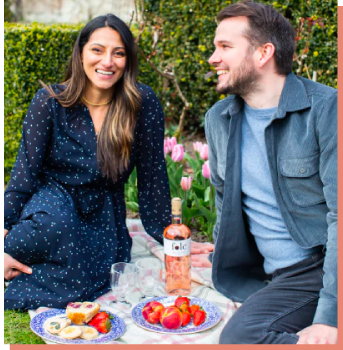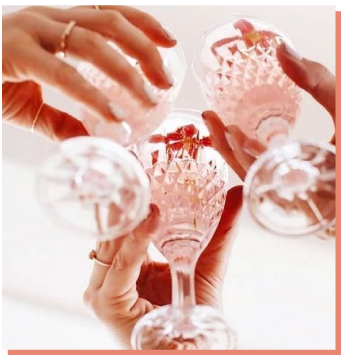 The folc difference.
We're proud to do things differently. Our co-founder Elisha is one of very few women of colour in the UK wine production business, something we hope to change across the industry. In the meantime, we'll proudly lead the way.
We're always transparent and responsible when it comes to our wine-making process, and simply by buying locally, you're making a sustainable choice. Even better, our winery is one of the few accredited with the WineGB Sustainability Scheme.
We produce folc in small-batches, giving each and every bottle the love and attention it deserves. We're young at heart, but we aren't afraid to take on the industry leaders and we've got the medals to prove it. In 2021, we were awarded a Gold at the Independent English Wine Awards and took home one of the only two medals for still English rosé at the International Wine & Spirits Competition. Along with two further silver medals from WineGB and the International Wine Challenge competitions. In 2022, we've been awarded three further medals at the Harpers Wine & Spirits competition, including the prestigious "Star of Kent" award. We're now the highest scoring still English rosé in the country.
The folc way.
We founded folc with a view to shake up the conventions of a pretty dated industry. A traditionalist view of wine-making would suggest that one has their own vineyard. We think not. Instead, our grapes sun themselves on the finest family-run vineyards this side of the Channel before taking a short trip to our winemakers in Canterbury.
By working with experts in their field, we ensure that each and every stage of our winemaking process is nothing less than excellent. From grape to glass, our winemakers are true masters of their trade and uncompromising when it comes to quality.
The result? An unparalleled rosé - dry, fresh, and undeniably delicious (if we do say so ourselves).